Rental Products
Our rental equipment is backed up by the extensive knowledge and experience acquired by Aerzener Maschinenfabrik over more than 150 years. It is up to the task, robust, plug-and-play, suitable for outdoor operation and can easily run for six months without any maintenance. To underscore this reliability, all services/maintenance (including any engineer costs) are included as standard in our prices*.
All AERZEN RENTAL units are electrically driven (optional: with diesel powered generator sets). We hold a truly unique portfolio in the rental market by offering six different compression ratios and having variable speed drives as standard. This setup enables us to achieve exactly the right pressure and flow that you need, without any losses due over-compression that would occur with a market standard 10barg oil-free compressor.
For perfect integration into your processes (or autonomous operation if required), our units are equipped with a connection box, a power and control cabinet and an operation panel that can handle external signals. Our equipment is increasingly equipped with remote monitoring, enabling us to be always close by and provide any support you may require. Whichever brand or type of gas compression technology you have on your site, our versatile rental units can replace it.
* Provided the installation is set up in a clean area where clean air intake is assured, no day-to-day maintenance is required.
---
TVS series: super silent, oil free air compressor up to 10bar (g)
Effective, quiet, energy-saving: the TVS-series combines the latest machine technology with economic performance as well as sustainability, making it a future-proof solution for almost any requirement. Thanks to the frequency inverter, the assemblies can be optimally controlled, so that the exact pressure and volume flow required is always achieved and enables a gentle start with low starting current. With efficient cooling inside the assemblies ensures that the rental compressors provide an excellent supply of compressed air even at high ambient temperatures of up to 45 °C. Customers can rely on full capacity and do not need to make any arrangements for cooling water or similar.
To reduce noise emissions, a special acoustic hood has been developed to ensure particularly quiet operation. The TVS-Series can be used in many industries whenever oil free class zero purity air is required and can often be found supplying to factory, chemical, food & drink, pharmaceutical industry, tunnel construction and many more.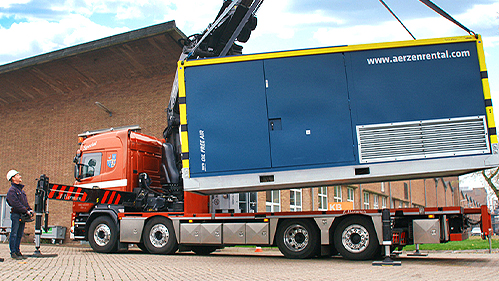 ---