Air supply decisive for efficiency
Industrial food production would hardly be possible without the use of process air for the handling or processing of raw materials, preliminary products and end products. In addition, compressed air plays an important role for many other process applications. The loading and unloading of transport equipment and storage facilities, loosening and sorting processes as well as packaging and packing are just a few examples.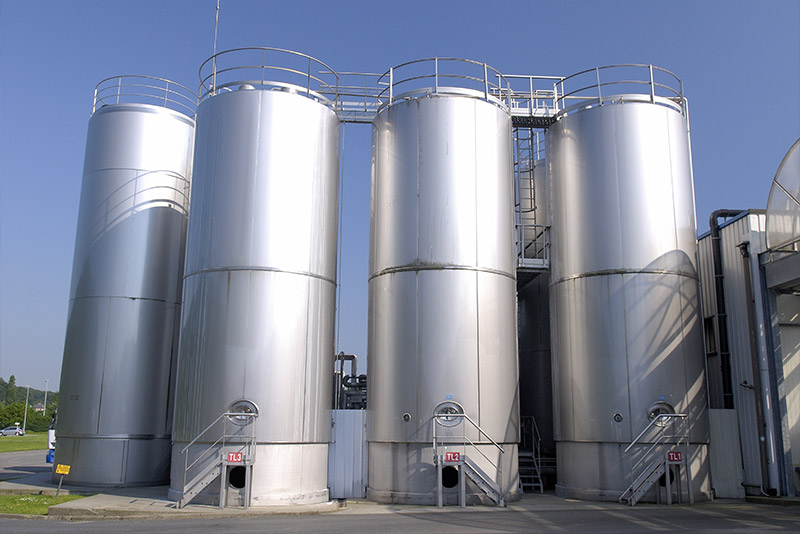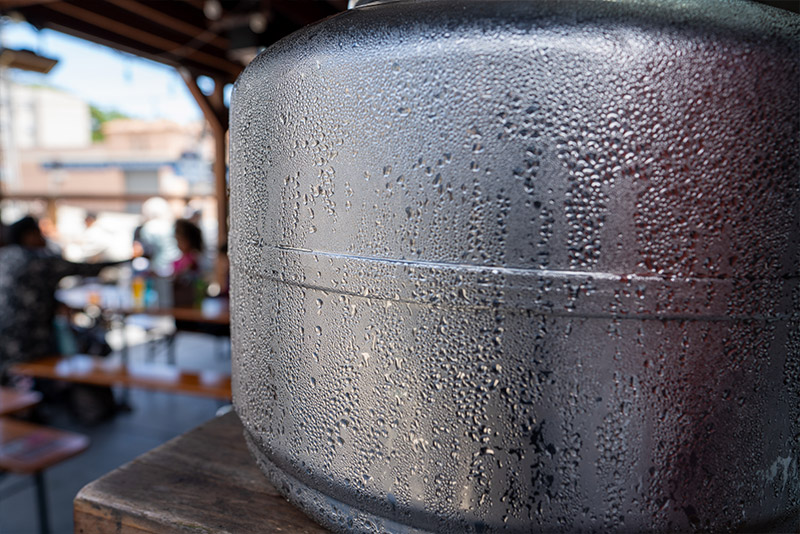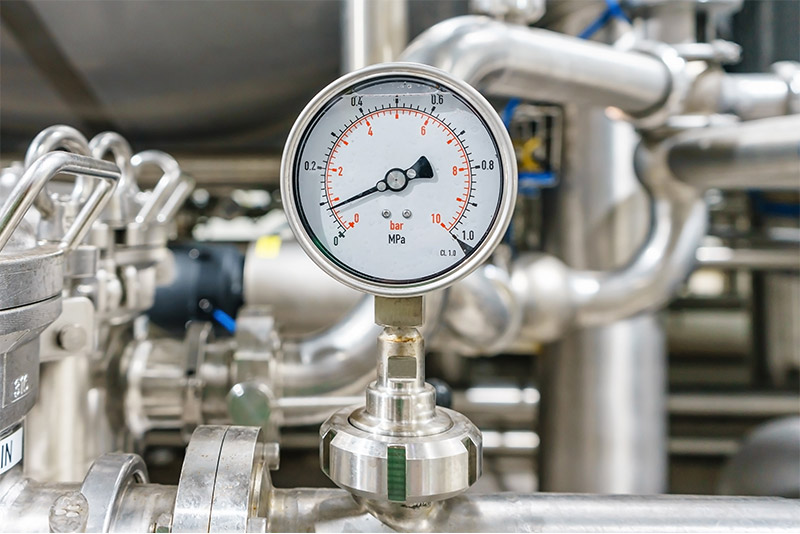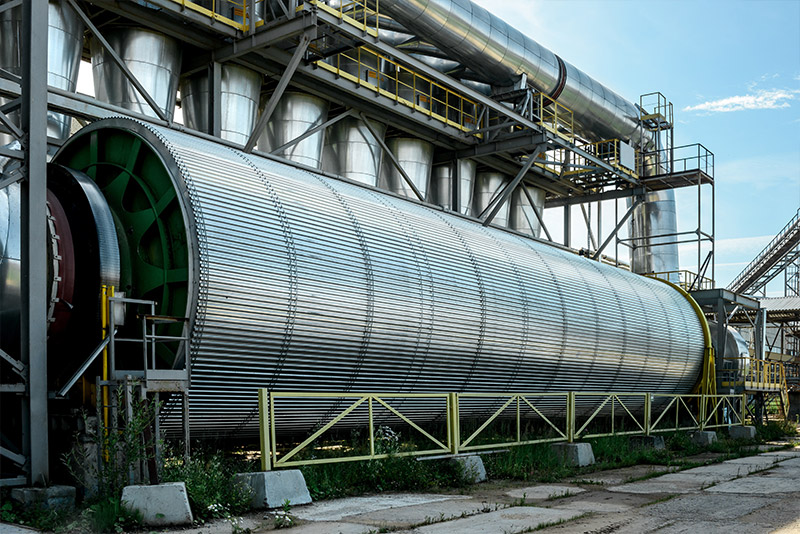 The challenge of humidity in process air
In the case of pneumatic handling processes, humidity in the process air can lead to problems in several ways, as the process air usually comes into direct contact with the product. In food processing, hygroscopic products such as sugar, cocoa, starch or spices are processed as well. If these absorb moisture, this promotes the growth of bacteria, potentially losing raw materials depending on the storage period. Furthermore, the material can harden in the edges of silos. Humidity additionally critically impairs handling. Humid bulk material has a lower flow rate and therefore tends to clog delivery pipes. This can lead to production downtimes, or at least delays, if pipes block, for example. Product build-ups on system parts also make processing more difficult. This is directly reflected in increasing production costs for the user.
Mechanical devices can serve as a short-term remedy for conveyance material that easily sticks together. These include, for example, hammers or vibration plates that allow the bulk material to loosen or trickle off. However, these measures often only temporarily restore handling. The negative consequences for the end product – which result from moisture absorption during storage, transport and processing – remain. Ventilated containers and drum dryers are used for the drying of food. The underlying principle often revolves around drying air being fed over to the materials, removing moisture from the bulk material. After the air has cooled down, condensate is produced, which is discharged from the process in a targeted manner. If this process takes place in a closed system, much of the heat that is automatically generated during the compression of the process air can be recovered. Devices for process air that dry upstream or downstream of the blower or compressor are an effective solution, right from when moisture penetrates during pneumatic conveying. These can reduce the humidity according to the requirements of the user's processes or lower the dew point. It is essential for the machines to work flexibly, as the humidity content of atmospheric air varies both during the day and between seasons.
Process air drying in detail
Process air dryers adjust the relative humidity and dew point of the compressed medium. Some background to this: the ability of the air to absorb a certain quantity of water vapour depends on the air temperature and air pressure. Based on this maximal capacity, the relative humidity indicates to what extent the air is saturated with water vapour. If the air temperature drops while the water content of the air remains stable, the relative humidity increases in turn. When the temperature reaches the dew point, the relative humidity is 100%. Any further reduction in temperature can result in condensation of the water vapour. Low dew points and low relative humidity are the goal of process air drying.
Plants for drying process air
From a relative humidity of 65%, there is an increased risk that process air will cause mould formation in the bulk material. Drying plants must then be used. It's best to already do this on material acceptance. Processed air, which has already undergone drying, brings the bulk material into the store without any moisture getting in. In the silo or storage room, dehumidified air prevents the raw material from clogging.
Condensation dryers are sufficient for applications with less demanding requirements regarding the humidity of the process air. Here, the water vapour in the air condenses onto cooling registers or heat exchangers.
Relative humidity below 50% at ambient temperature or dew points below 10°C cannot be achieved with a condensation dryer. Process air applications for the handling of sensitive hygroscopic substances, found in the pharmaceutical industry, are only possible when the material is used for sorption or refrigeration drying.
The process air drying process by means of sorption requires air temperatures that are as low as possible. The process is based on a sorbent, which removes the water from the air. After compression, the process air passes through a precooler, which brings the air temperature to the lower set level. Now the process air flows through a constantly rotating rotor which is coated with the hygroscopic sorbent. This binds the water vapour, so that the escaping medium has a lower moisture content. Without regeneration of the sorbent, however, the rotor would, over time, be permeable for the water vapour. Therefore, another air flow releases the water molecules stored in the rotor. It has a temperature of up to 130°C, but with a considerably lower volume flow.
Energy efficiency with process air drying
Energy efficiency plays a particularly important role in the design of sorptive processes for process air drying. This primarily refers to regeneration, for which high temperatures are required. Heat energy is provided by electrical heating registers or gas burners. To lower energy loss to the greatest possible extent, modern plants use the warm exhaust air to preheat the newly supplied sorption air in process air drying. The design principles for the drying components are the same as for blowers or compressors. They must be dimensioned in line with required system performance, striving to minimise internal pressure losses through optimal air flow. These must otherwise be compensated with increased energy expenditure. In particular during drying, it is important that the rotor does not emit any sorbent into the air, possibly compromising purity.
Air supply decisive for efficiency
Generation and process air drying involve high energy consumption. It is however not the only decisive factor for the operational efficiency of a pneumatic conveying system. It is true that optimal system configurations open up considerable efficiency increases through careful selection of components and well thought-out pipework routing. But it's just as important to avoid energy loss and this is where heat recovery systems, for example, have a vital role to play. They can make the waste heat from the processes – that is always generated – available for further use, increasing operational sustainability.
The best preconditions for achieving this are efficient overall concepts. Therefore, AERZEN doesn't just offer a wide range of products and services for process air generation. The application experts also work on the optimal integration of their own components into complex process air circuits.
Integrated planning is key to success
Correct blower and compressor design can considerably lower the energy requirement of a plant for the supply of process air. Unsuitable components or incorrect settings not only lead to higher energy consumption, but also significantly drive up production costs in the longer run due to malfunctions and wear. AERZEN offers three product series: positive displacement blowers (Delta Blower), rotary lobe compressors (Delta Hybrid) and screw compressors (Delta Screw) solutions for a wide range of applications. These range from compact assemblies for mobile use on self-unloading silo trucks to stationary plants for unloading bulk material from transport ships. In addition, there is the large blower modular system Alpha Blower, which with a maximum volume flow of 77,000 m3/h can reliably supply large food companies with process air. All technologies work oil-free and, thanks to ATEX conformity, are suitable for use in potentially explosive atmospheres.
Solutions for the treatment of process air
Dirt or dust particles, as well as excessively high air temperatures and humidity, impair product quality. On the discharge side of assemblies, additional components take over air treatment:
Process air filter
Aftercooler
Dryer
In its accessories programme, AERZEN supplies complete, connectable filter elements of separation classes F7 to H13. They can also be retrofitted into the plant, upstream of process air drying. Tailored to the ambient air conditions, the filters remove dust and dirt from the air, creating a particle-free atmosphere. During compressing, temperatures of up to 280°C can occur. Such hot air can damage bulk material and system parts, which is why conditioning is handled by coolers, arranged upstream of the dryers. Supported by a proprietary software solution, AERZEN selects aftercoolers from its delivery programme and verifies the selection by simulating the operating data. The components are available in air-to-air or water-to-air designs. With special varnishes, special motors, separators for condensate and intelligent controls, flexible adaptation options are available to suit custom requirements.