Gemuese Meyer
Since its foundation in the year 1972 the company Gemüse-Meyer in Twistringen developed from an agricultural company into a medium-sized manufacturer of deep-frozen vegetables. Every year the family-owned enterprise with more than 100 employees processes about 60.000 tons of vegetables. Every working day about 100 cubic metres of sewage water and up to 50 tons of suspended solids accrue. From these wastes biogas is extracted, which is afterwards used in a block heating station for production of electrical energy.
---
Modern recycling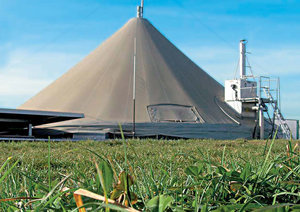 The process water treatment plant required for the preparation was planned and realized by Messrs. LimnoTec Biogasanlagen GmbH in Hille. The company offers customised solutions in sewage plant- and biogas construction. Essential components in the recyclingcircuits at Messrs. Gemüse-Meyer are two biogas-blowers and two oilfree working Positive Displacement blowers for aeration of the sewage basins – all of them made by Aerzener Maschinenfabrik. The sewage water and the suspended solids accruing during production – mostly peels and wastes from potatoes, carrots and beans – are mixed in the biogas plant in a preset relation. The developing solution is introduced into the two fermenters with a volume of each approx. 1.000 cubic metres, where the suspended solids contained are converted to more than 80 per cent into biogas. In winter, the accruing waste heat serves for heating the production rooms at "Gemüse-Meyer", in summer a public swimming bath located nearby is supplied with it.
Gastight design
The Aerzen biogas blowers series Delta Blower (type GM 3S) arrange for negative pressure in the reactor, support the optimal degassing and due to the generation of negative pressure convey liquids out of the fermenter and the reactor. The blowers were modified especially for applications in the field landfill gas and biogas. They are available for intake volume flows from approx. 30 to 14.000 cubic metres per hour and supply in pressure operation differential pressures up to 1.000, in suction operation up to minus 500 millibar. Parts in contact with the gas can optionally be coated with a special corrosion protection. The ATEX-certified units are driven via antistatic narrow V-belts and can optionally be delivered with and without acoustic hood. "The Aerzen units form an integral part of the entire project. Since the commissioning in 2007 they are working troublefree and absolutely reliable – non-stop." Benno Diephaus, plant attendant at Gemüse-Meyer is pleased.